Upper Limb Prosthesis
At Superior Prosthetic Solutions, we understand your upper limb prosthetic needs to be an easy to use, dependable extension of yourself. Whatever your need, be it a replacement socket, replacement of your current myoelectric hand or a completely new prosthetic arm, making sure your outcome is comfortable is our highest priority. Our goal is to create an upper limb prosthetic solution that gives back as much functionality as possible.
Understanding Your Individual Needs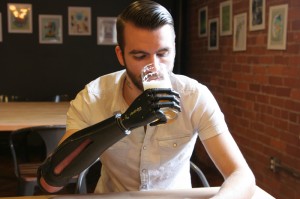 Superior Prosthetic Solutions will create a custom prosthesis completely unique to your needs. An arm, finger or hand prosthesis will be custom built with the understanding that there is much more to your prosthesis than the components that go into them. Our aim is to provide an ongoing comprehensive solution with any upper limb prosthesis we deliver. With extensive knowledge, experience and continuing support, SPS is committed to maintaining and optimizing your prosthesis for years to come.
Upper limb prosthesis requires an experienced certified prosthetist who carefully addresses the finer details and interactions of all components, ensuring that every aspect of your prosthetic limb is working to your complete satisfaction. That dedication doesn't end once you have your artificial limb. We highly encourage regularly scheduled follow-up visits to help insure your fit stays consistent and your components remain maintained. As your needs and or technology change, adjustments can be made to your prosthesis keeping both you and your limb comfortable and ready for action.