Connie
---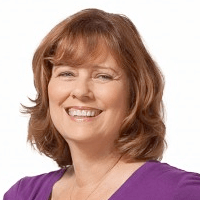 A Team for the Long Run
In April 2012, Connie was looking to find a new prosthetist (someone current with today's technology) who could work with her for years to come. That's when Connie's previous prosthetist referred her to Rob, and Superior Prosthetic Solutions came on the radar. As an amputee since 1977 and a registered nurse, Connie was not new to the prosthetics world. By self-admission she says, "I'm a difficult fit. My residual limb is very fleshy, and a real challenge to securely support." Connie knows that fit and function have always been equally important in determining her comfort as an active amputee in need of an above the knee prosthesis. In addition, she knows incredible patient care is a must and remains of utmost importance. Because the team at SPS was recommended by a trusted resource, Connie was eager to meet them. After all, she knew that whoever she chose to work with would become a very valuable part of her life.
Renewed Hope
At Connie's first meeting with Rob at SPS she wasn't ready for a new prosthesis. She inquired about a new cosmetic cover for her C leg. During their introductions and Rob's preliminary evaluation, he could see Connie was working harder than she should to walk across the room. Connie recalls, "That's when Rob told me about the High-Fidelity Interface. I went home and started to research it, and what I found looked like it was tailor-made for me. The HiFi was attractive because my residual limb is so fleshy and hard to fit. From what I read, I felt like the HiFi was a good option."
Feeling the Difference
Eventually, Connie came back to Rob and decided to give the HiFi a try. "I could tell that it was going to be different when he first let me stand in the High-Fidelity Imager. When I tried on the first test interface, I got used to it, and was walking on it quickly. Then when I had to put my old socket back on, I could tell that the HiFi gave me so much more support. It was a dramatic moment for me–going from the first test HiFi back to the socket I was wearing daily. When you go back and forth between a traditional socket and a High Fidelity interface, the difference is noticeable."
Alignment Specialist
"Rob is the best prosthetist I have ever had for alignment. I have been an amputee for so long, so I'm used to telling people what I want during a fitting. Rob makes me go through the process slowly. To make the right changes, he gently pushes me to work a little longer at it. I needed someone to do that for me. I trust him that the alignment on my limb will be good," says Connie.
Individual Care
Connie enjoys working with the SPS team. She says, "Patty is awesome. She is just always so cheery and accommodating. When I call with questions, she is great about giving answers or finding them. She is great with insurance, and she works with Rob so well. I've never had a prosthetist work with an assistant in this way. She sits in during consultations and assists with every casting, it's very unique."
Goal One: I want to walk better.
Today Connie says that she is about 70% of the way towards her most important goal–walking better. "The support is there, so my gait is improving so much. Before the HiFi my gate was not good. It has improved so much that other people notice and make comments about how much better I am walking. Even my daughter remarked that I was walking better."
Goal Two: I want to be more sure of myself in crowds of people.
As an amputee, Connie is well-aware of the very real feeling of getting knocked over in a crowd. Together with Rob, she is working on becoming stable and confident in those tight, closed-in situations. Goals like this take perseverance and patience, but Connie knows that the team at SPS will help her get there. Open, solid communication is paramount. "Their work cultivates a very intimate relationship. They get to know you more than a doctor. They have to in order to be successful."
A Quiet Strength
Over time, it has become clear to Connie that there is a discernible difference as she works with Rob–a quiet strength that is clearly rooted in a deep faith. Connie says, "The best way I can describe Rob (through my tears of gratitude) is this: Micah 6:8 says '…And what does the Lord require of you? To act justly and to love mercy and to walk humbly with your God.' that is what Rob does every day."
"It was a dramatic moment for me–going from the first test HiFi back to the socket I was wearing daily. When you go back and forth between a traditional socket and a High Fidelity interface, the difference is noticeable."
"The support is there, so my gate is improving so much. Before the HiFi my gate was not good. It has improved so much that other people notice and make comments about how much better I am walking. Even my daughter remarked that I was walking better."
"Their work cultivates a very intimate relationship. They get to know you more than a doctor. They have to in order to be successful."